Welcome to Arden Villa Online!
1145 Arden Road, Pasadena California
A Tribute to the Incredible 1915 Mansion in Pasadena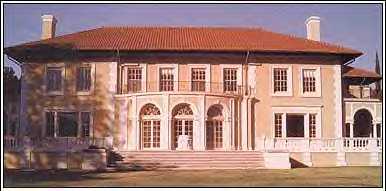 My fascination with this architectual design has grown more and more
recently. When trying to research the history of Arden Villa, I found
only ONE site that had any information on it, and even that site didn't have that much.
With this site, I hope to give you a virtual tour of the mansion and its grounds, as well
as more information about it.

To view the images, click on "Floor Plans" below - then click on the room you want to see.
CONTENTS:
About the Villa
Floor Plans
General Pictures
Other Pictures
Unknown Location Pictures
Knight Rider Discussion Board

TV Shows that Feature Arden Villa:
Flamingo Road - 1981/82> (unconfirmed) (NEED PICTURES)
Knight Rider - "White Bird" - March 4, 1983
Dynasty - Episode 60 - April 13, 1983 (NEED PICTURES)
Knight Rider - "Brother's Keeper" - October 9, 1983
Knight Rider - "A Knight in Shining Armor" - January 8, 1984
Knight Rider - "Goliath Returns" - February 19, 1984
The A-Team - "The Heart of Rock 'N Roll" - November 5, 1985
The A-Team - "The A-Team is Coming, The A-Team is Coming" - January 21, 1986
Matlock - "The Cult" - May 2, 1989
Knots Landing (unconfirmed) (NEED PICTURES)
Hart to Hart (unconfirmed) (NEED PICTURES)
Remington Steele (unconfirmed) (NEED PICTURES)

Movies that Feature Arden Villa:
Duck Soup - 1933 (NEED PICTURES)
Terms of Endearment (unconfirmed) - 1983 (NEED PICTURES)
W.B. Blue and the Bean - 1989
Mother's Boys - 1993
Billy Madison (unconfirmed) - 1995 (NEED PICTURES)

Music Videos that Feature Arden Villa:
"Don't Look Back in Anger" by Oasis - 1995 (7-6-01: Pics Now Available!)
If you know ANYTHING about this building that is not on this site, please e-mail me at:
This site was created on: June 26, 2001
This site was last updated on: March 5, 2003