About Arden Villa: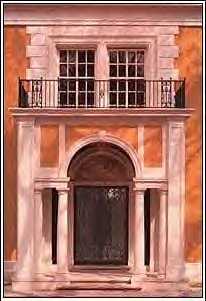 Front Portico
This magnificent 1915 Palladian villa was designed by famed architects Sylvanus
Marston and Garrett Van Pelt. The home of many famous and infamous characters,
both fictional and real, it is a two story seventeen room residence built at the then
extravagant cost of $50,000. Cloistered behind a gated entry and at the end of a
tree-lined 100 yard driveway, the house was originally situated on a nine acre parcel
of land stretching from Rosalind Road to Lombardy Road. Six full time gardeners were
employed to maintain the grounds and its celebrated seven gardens. The original owner
of the property, William Kennon Jewett, was a native of Youngstown, Ohio. Heir to a railroad
fortune, Mr. Jewett made another fortune as President of the London Mines Company of
Colorado, one of the largest gold mines in the country. Although prominent in early Pasadena
society, Mr. Jewett and his second wife, Elise Stewart of Philadelphia, entertained in a more decorous
manner, hosting musical evenings in the "garage" which housed a large ballroom and five
two-room chauffeur's apartments. The garage was demolished in 1948 by a subsequent owner.
The property was also subdivided leaving only the original house and a modernized four car garage
on the current two and a half acre parcel. In 1957, the house was sold to Coleman and Jane Morton
who added the tennis court and swimming pool. Mr. Morton was the President of Capital Research
Company of Los Angeles and owned the property until a few years ago.




The Morton family shared their exquisite home with countless television and movie fans.
The estate has been featured in the Marx Brothers movie "Duck Soup," Paramount Pictures,
"Terms of Endearment," and a host of television programs including "Knots Landing,"
"Knight Rider," "Hart to Hart," "The A-Team," "Matlock," and "Remington Steele." Blending the
beauty and glamour of the mansion with the exploits of some very engaging fictional
characters brings a new dimension to this classic example of early Pasadena architecture.
Graciously reminding us of a grand and luxurious lifestyle, it continues to intrigue and enchant
millions of viewers, whose memories are rich in stories told and re-created in this elegant home.
The mansion and it's surrounding walls and buildings were originally painted a rust/brown color.
However, sometime between 1984 and late 1985, it was repainted a canary yellow color, the color
it remains today.